Fun and Games

This page has loads of fun things to do on it...so much so you'll never get bored!
Recipes: Do you fancy your self as a bit of chef? Well we have loads of kool recipes to make tasty Harry Potter Treats!
Games: Not really a chef? Well do you want to become the next quidditch captin for you nations squad? Well try your luck at some of these wicked games!
Mistakes: Ever wondered if your the only one who ever makes mistakes? Well don't worry it happens to the best of us - even J.K.Rowling!!
Colour Page: Want to colour in some hogwarts crests? Have a look at these!
---
Ingredients:-
2 1/2 cups of milk
2 tablespoons of brown sugar
1 teaspoon of vanilla
1 level teaspoon of butter
Method:-
1. Heat milk in a small saucepan over medium-high heat.
2. Add the rest of the ingredients. Blend with a small handmixer if you have one, to make it frothy.
3. Bring the mixture almost to boiling, but not quite.
4. Pour into mugs and serve!
Serve in a traditional English Metal Tankard

Butterbeer
(Chilled Butterbeer)
Ingredients:-
8oz ginger ale or cream soda (seems to work better!)
2-3 tablespoons of butterscotch syrup
1 (12-ounce) bag chocolate chips, or 12-ounce bar chocolate, broken into pieces
1 teaspoon grated chocolate
1 plastic mold for bite-size chocolate frogs
Small candy eyes
Method:-
Place chocolate in a microwave-safe bowl. Microwave chocolate on high power for 2 minutes. Stir. Continue microwaving in 15-second increments until chocolate is almost completely melted. Remove from microwave and grate 1 teaspoon additional chocolate over the melted chocolate; stir until smooth. Fill mold with melted chocolate, reserving about 1 tablespoon melted chocolate. Refrigerate molds until chocolate is firm, about 2 hours. Remove frogs from molds. Place candy eyes onto the frogs with remaining melted chocolate. Store at room temperature or in the refrigerator.
---
Ingrdients:-
2 cups of pumpkin, chopped up into chunks
1 teaspoon of honey (more or less to your liking)
Method:-
1.Juice the pumpkin pieces by squeezing through a cheesecloth or using a juicer if you have one.
2.Pour the pumpkin juice, apple juice and pineapple juice into a blender.
3.Add the honey (we recommend you start with 1 teaspoon, as you can add some later!) to the juices and blend thoroughly.
4.Chill your pumpkin juice or serve iced and enjoy!

---
tastycakes or home made cupcakes.
Cotton candy
Licorice string

Method:-
1. Scoop out center of cupcake.
2. Put cotton candy into center.
3. Add licorice Handle
---
Ingredients:-
8 - tablespoons sugar
2/3 - cup cranberry juice -EDIT-
4 - tablespoons light corn syrup
4 - envelopes (4 tablespoons) unflavored gelatin
Red Food Coloring
Confectioners' Sugar ( also known as icing sugar )
Method:-
Place sugar, juice, and corn syrup into a saucepan. Stir over medium-low heat until the sugar dissolves. Sprinkle in gelatin and cook and stir until the gelatin is completely dissolved. Stir in 2 or 3 drops of food coloring. Pour mixture into a bread pan coated with cooking oil spray. Let stand at room temperature until very firm, about 2 hours. Turn the pan over and remove the jelly (If jelly sticks, set the bottom of the pan in hot water for a few minutes.) Place on a work surface sprinkled with confectioners' sugar. With a sharp knife or a small cookie cutter, cut the jelly into worm shapes. Place on a platter lined with wax paper. Store in a cool, dry place. Do not refrigerate.
---
Ingredients:-
6 oz. melted chocolate
6 oz. peanuts (unsalted)
chocolate jimmies/ chocolate sprinkles
Method:-
1. Melt chocolate in double boiler or microwave.
2. Stir in peanuts.
3. Drop onto wax Paper.
4. Before chocolate sets sprinkle jimmies onto cluster...enjoy!
---
Ingredients:-
1/2 cup light cream or evaporated milk
3/4 cup firmly packed brown sugar
1/4 teaspoon salt
4 ounces or unsweetened chocolate
2 tablespoons unsalted butter
1/3 cup molasses
Method:-
In a large bowl, mix cream, brown sugar, and salt together. In a saucepan, melt the chocolate and butter together. Remove from heat and add molasses. Add the chocolate mixtures and cream mixtures together. Pour mixture into a pan and let cool. Cut into squares after cooled and serve.
---
Ingredient:-
Pre-made sugar cookie dough (break apart; otherwise slice and mold sugar)
Cookie to fit into muffin pan.
Pumpkin pie filling
Powdered sugar
Method:-
1. Mold sugar cookie into muffin pan.
2. Pour pie filling into muffin pan.
3. Let Bake at 350 degrees.
4. Allow it to cool
5. Sprinkle powdered sugar on top
---
Ingredients:-
Method:-
1. Dip lollipop into honey.
2. Then roll lollipop into pop rocks. Enjoy.
---
Here a few links to really good Harry Potter games! take a look at them!
---
These are some of the mistakes found in the Harry Potter books:

Book 1:

In chapter 7, after Harry's turn at the sorting hat it says there are 3 more people to go, but there are actually 4: dean, lisa, ron, and blaise.

Harry buys one thousand magic herbs and fungi but at the end of the story it refers to his one hundred magic herbs and fungi...

Dumbledore says he has just a little Elixir to take before he and his wife die -- but the Elixir makes you immortal.

When Hagrid comes and gets Harry out of the little hut on the rock, they use the boat that the Dursleys used to get to the rock. So how do the Dursleys get off the rock?

Ron was the knight in the giant chess set. However, it later said that he had to 'move ahead one' so the Queen could take him, opening the path for Harry and
Hermione to checkmate the king. If he was a knight, he could only move 1) ahead one, sideways two, or 2) ahead two, sideways one, like an "L".

When Hagrid brought Harry to Diagon Alley for the first time, Harry heard a woman say "Seventeen sickles an ounce for Dragon Liver. They're mad." But Hagrid told Harry that there were seventeen sickles in a galleon. So that would be like saying "100 cents" instead of a dollar. (Possible Explanation: Maybe that's just the way this witch talks.)

If "only the person who wanted to find the stone, find it, but not use it, would be able to get it", then surely Nicholas Flammel wouldn't have been able to get to the stone either - wasn't he using it to make Elixer of Life? And if this is the case, then Flammel would have died even if the stone hadn't been destroyed cause he wouldn't have been able to get to it to get some more Elixer.
Book 2: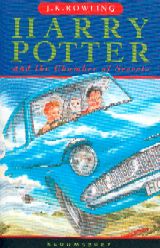 On page 132 Hermione says Moaning Myrtle haunts a toilet on the first floor, but on page 395 Harry refers to her haunting a toilet on the second floor. This isn't really a mistake because in the UK, the first floor is the Ground Floor, so the second floor is labeled "1".

Dumbledore tells Harry that Lord Voldemort is the last remaining ancestor of Salazar Slytherin. But it should say that Lord Voldemort is the last remaining descendant of Salazar Slytherin.
In the first book, Nearly Headless Nick says that he hasn't eaten in "nearly four hundred years." But in the second book, he's celebrating his five-hundredth deathday.

The basilisk kills people by looking at it straight in the eye. But Myrtle and Harry both wear glasses. Colin was petrified by looking at it through the glass lense in his camera, so wouldn't Myrtle just be petrified too?

When Tom Riddle was talking to Harry in the Chamber of Secrets he said that they were similar because they were both half bloods. But Harry isn't a half blood. Lily and James were both wizards and witches.
Book 3: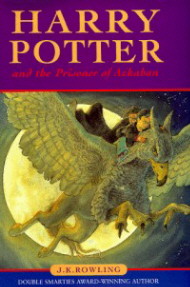 Harry Potter sees someone strangely familiar across the lake who saves many lives. Later it is revealed that the familiar someone was not at that spot before travelling back in time. So Harry could not have seen him before the time travel.

In book one, Marcus Flint is described as a burly sixth year, but in book three, two years later, he is still the captain and a chaser on the Slytherin quidditch team. He should have graduated in the last year. (JKR was asked about this in an online chat. Her response: "He had to do a year over again!")

In Chapter 19, The Servant of Lord Voldemort, page 370, it states that Voldemort had been hiding for 15 years. If his power was lost only twelve years ago, why was he hiding that extra three years?
Book 4: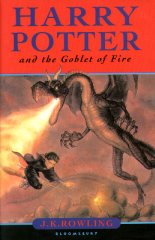 Professor McGonogall says the password is "lemon drop" in the second book, but in this book, Harry Potter says it is "sherbet lemon". (This might not be a mistake, may be the password changes from time to time.)

In book 3, Dumbledore says that he gave evidence at Sirius's trial, but in book four, Sirius tells Harry he didn't get a trial.
In book four, during Priori Incantatem, Voldemort's victims came out in reverse order. BUT, James came out BEFORE Lily. That would mean that James died AFTER he killed Lily and it said all over in the books that he killed James first. (Fixed in later versions of the book)
---
Just right click on the picture you want and click save picture as...and save it! then print away!!!